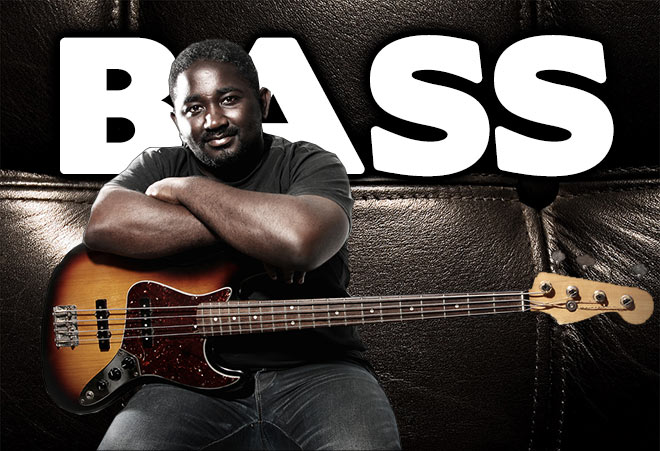 There's nothing quite like the big fat tone of a live bass guitar. In fact, if you produce rock or funk music there's simply no replacement for a real bassist. But just because you don't have access to a world class bass player who has the best guitars and amps known to man, it doesn't mean you should go without. We put together some free Garageband bass guitar loops for you and they take you all the way from rock and funk to metal and jazz.
These fuzzy bass guitar loops lean more towards the 'rock' genre but it's clear that they've got a somewhat 'funky' flavor too. At times they wouldn't sound too out of place in some form of 'electro pop' so you be the judge and download these apple loops to try them out in your latest Garageband project.
To download these apple loops click on the download links in the table below.
Don't let that comical sound track from 'Seinfeld' put you off the super funky vibe of live Slap Bass. There's a world of difference between those cheesy keyboard licks and these monster bass guitar samples. A difference you can feel.
Slap Bass gives you a totally unique and percussive bass sound that relies heavily on syncopated rhythms and complex fretboard wizardry. Typically the bassists thumb is used to strike down on the lower strings while the forefinger is use to pluck upwards on the high strings. This produces a very distinctive tone.
To download these apple loops click on the download links in the table below.
The bass guitar has been an essential element in Hip Hop music for a long time. Most of the time you won't even notice it's there - until you take it out. That's kind of the thing about bass guitar, it's rarely 'in your face' but when it's not there, you really notice it's absence.
With this download you'll get some bass loops that have character and can really add that human touch to your Hip Hop beats that would be lacking if you chose a synth sound for your bass. Go organic and try out these joints in your latest Garageband song.
To download these apple loops click on the download links in the table below.
You don't need to be writing a Jazz song to get inspired by these Jazz Bass Guitar Loops. These samples are so versatile you could throw these against and killer DnB drum loop and have yourself an instant floor shaking beat.
Maybe you just fancy something funky or suitable for the chillout lounge? Try this download and see what you get for being experimental.
To download these apple loops click on the download links in the table below.
These live chillout bass guitar loops are perfect for lounge music and even soft funk. Brimming with soul and sporting a fat, warm tone, these bass loops could be the missing link your production chain.
If you're producing chill out or lounge music, there's no substitute for a real bass guitar on your tracks. Don't ponce around with lame synth bass samples for this type of genre. For lounge music you've got to keep it live and organic.
To download these apple loops click on the download links in the table below.
Downloading Instructions
Click on the download buttons above to choose the style of bass guitar loops that you need. All of our Garageband bass guitar loops come with a full commercial license for our paid members.
Each file that we offer is in Apple Loop format which has been specially formatted to work with Garageband and Logic.
Apple loops are specially formatted AIF files which contain meta data. This information ensures that your Apple Loops will contain transient points, key and tempo references and other useful data within the file itself.
Importing Instructions
You can load all of our free Garageband loops by dragging and dropping the unzipped .AIFF files from your local folder directly into the loop browser within Garageband. To import the files to the iPad version of Garageband you'll need to do that via iTunes.
Live Bass - There's Nothing like The Real Thing
Virtual instruments have come a long way but when it comes to the intricate licks and playing techniques of a real bass player, virtual instruments just can't cut it. If you want your songs to sound live and organic the only solution is to use the real thing and have a human bassist playing on your tracks.
With loops you get professional musicianship, high quality recording and top notch equipment all crammed into a small audio file that can transform your songs bass tracks from cheesy and lifeless to authentic and vibrant.
The Backbone of Your Song
Every song needs a good foundation and the drum and bass tracks of your song are vitally important in getting it right. You can instantly hear the difference that a real musician makes to a song when you compare it to low grade software instruments that can often sound really fake and lame. Give your songs the best with samples they deserve and download the real thing to create a strong backbone for your live songs that have a real 'band' vibe.
Have Fun and Comment Below
We hope you have fun with the free Apple Loops you've download from Macloops. If you make any cool songs with the samples. feel free to post a comment below. Don't be hating or spamming, we'll just delete your comment and close your account. Keep it fund and friendly.