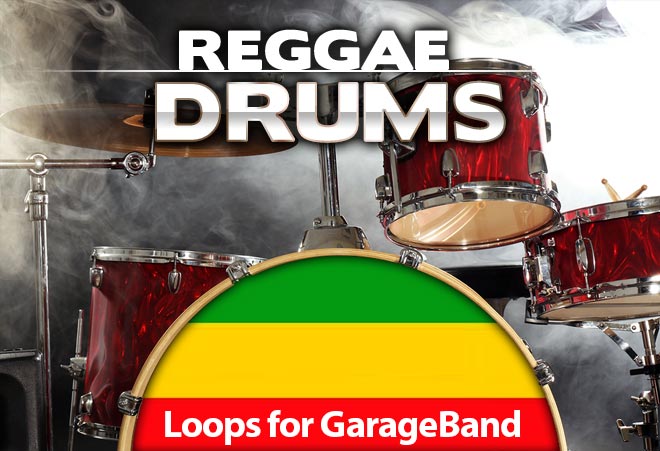 Do not, we repeat ''DO NOT'' attempt to produce authentic reggae beats without using these live acoustic reggae drum loops and ska drum loops for Garageband. You see, modern technology is pretty great and MIDI drums have come a long way, but they still can't (and never will) match the sheer finesse and tone of a live reggae drummer. The drum fills alone are enough to convince you that for Reggae at least, 'live' is where it's at.
These live acoustic beats and fills were fed through all manner of vintage and modern analogue gear, including Drawmer tube compressors and Focusrite EQ's. We added some subtle tape saturation for a nice, evenly compressed tone.
With side stick, rim shots and highly tuned snares, these classic reggae rhythms should add realism and vitality to your productions.
To download these apple loops click on the download links in the table below.
When your Garageband projects require the best, don't waste your time playing with the rest. This is the sample pack you'll be needing is you want to nail that authentic reggae vibe.
With loads of side stick grooves, offbeat fills and accents to drive home that syncopated reggae timing this is the sample pack you'll need for laying down some genuine reggae drum tracks.
Take your reggae beats to the next level and download these apple loops right now.
To download these apple loops click on the download links in the table below.
Reggaeton as a musical genre may have hit it's peak a few years ago but the Latin styled drumming rhythms that made it such a popular genre are absolutely timeless.
Those grooves have been around for a long time and they aren't going anywhere. Download these live Reggaeton drum loops for Garageband and get the most out of the Apple Loops technology you know and love.
To download these apple loops click on the download links in the table below.

From 'Ska Drum Loops V1'
Say hello to your new Ska drum tracks. We loaded up on inspiration from well known ska legends that took us all the way from 'Prince Buster' and 'The Skatalites' to 'Madness' and 'The Beat'. You'll hear the attention to detail in these drumming performances and the sound quality as soon as you hear the demo.
'Ska Drum Loops' offers a superb selection of expertly performed live ska drum loops with loads of variations and drum fills. You'll get side stick grooves, up tempo rhythms and lots of snare fills.
To download these apple loops click on the download links in the table below.
Downloading Instructions
Click on the download buttons above to choose the style of reggae drum loops that you need. All of our Garageband reggae drum loops include a commercial usage license for our paid members. Each file that we offer is in Apple Loop format which has been specially formatted to work with Garageband and Logic.
Apple loops are specially formatted AIF files which contain meta data. This information ensures that your Apple Loops will contain transient points, key and tempo references and other useful data within the file itself.
Importing Instructions
You can load all of our free Garageband loops by dragging and dropping the unzipped .AIFF files from your local folder directly into the loop browser within Garageband. To import the files to the iPad version of Garageband you'll need to do that via iTunes.