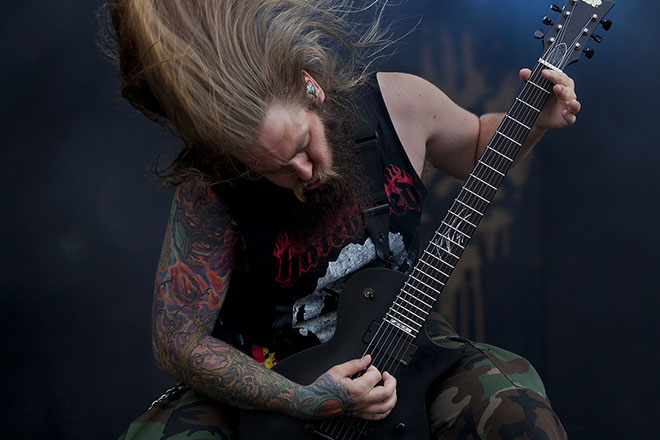 Ooh, we're not sure if you can handle this. Seriously, if you want metal you've come to the right place but these samples right here might be too heavy even for you. These concrete crushing metal guitar loops for Garageband might just tip you over the edge. With apple loops like these you can expect the master channel to be 'red lining' all the way. Oh well, we tried to warn you.
If you want that massive metal sound you'll need to use metal guitar loops that come from the real thing. Stop poncing around with synthesized virtual guitars, they'll just make you sound lame.
Inject some realism into your metal tracks by using proper performances with proper guitar tones that hit like a sledgehammer.
To download these apple loops click on the download links in the table below.
Get melodic Metalcore Acoustic Guitars in your tracks with strong melodies, rhythms and licks. Featuring 12 string and nylon string for a wide variety of acoustic tones. We've brought together a darkly spectacular mix of steel 12 string and classical nylon string guitars with rich, interweaving counter melodies, lush atmospheric chord structures and hypnotic rhythms.
To download these apple loops click on the download links in the table below.
Fuel your tracks with Dark energy and download these brooding Metalcore Acoustic Guitar Loops. Double tracked, processed and mixed for your convenience.
With Metalcore Acoustic V2 we focused more on rhythmic riffs to create a hypnotic groove as a foundation for the more melodic counter melodies that sit on top and create that haunting atmosphere.
To download these apple loops click on the download links in the table below.
Every riff and melody has been edited into a perfectly crafted loop so that you can easily load these sounds into Garageband and Logic to start mixing each stemmed out loop to create the perfect mix for your tastes.
All of the loops are completely dry and have no effects so that you can add your own FX and processing.
Take a trip to the dark side with these inspirational acoustic guitar loops for metal producers. These super hooky melodies and riffs will have your songs bursting with creativity and fuel your imagination for a long time.
To download these apple loops click on the download links in the table below.
Downloading Instructions
Click on the download buttons above to choose the style of Garageband Metal guitar loops that you need. All of our Garageband Metal guitar samples come complete with a commercial usage license for our paid members.
Each file that we offer is in Apple Loop format which has been specially formatted to work with Garageband and Logic.
Apple loops are specially formatted AIF files which contain meta data. This information ensures that your Apple Loops will contain transient points, key and tempo references and other useful data within the file itself.
Importing Instructions
You can load all of our free Garageband loops by dragging and dropping the unzipped .AIFF files from your local folder directly into the loop browser within Garageband. To import the files to the iPad version of Garageband you'll need to do that via iTunes.