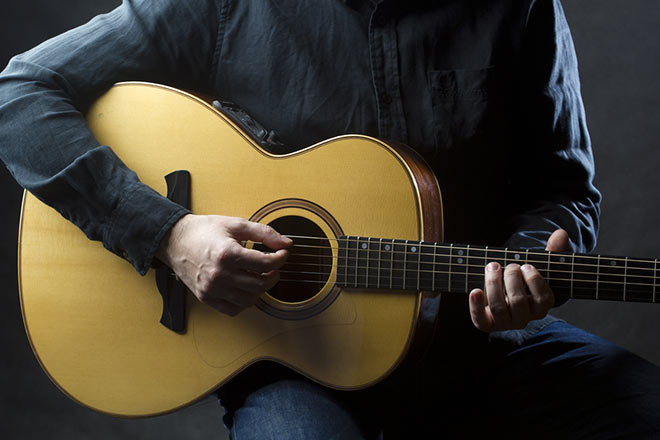 Have we got some deluxe apple loops for you to choose from. These Garageband acoustic guitar loops are sure to inspire you to create some totally unique and interesting songs. There's nothing more pure than the raw sound of the acoustic guitar and these sample packs give you some great song ideas as soon as you load them into Garageband.
Got writers block? Need some inspiration? Look no further, 'Steel String Essentials is sure to ignite your creativity with these red hot acoustic guitar loops and samples from Platinumloops.
Recorded acoustically with the legendary AKG Solidtube condenser mic, these loops offer the ultimate in sound quality as well as playing perfection. You'll find these samples load beautifully in Garageband and Logic.
To download these apple loops click on the download links in the table below.
Give your tracks that human factor with some high quality acoustic guitar loops that were expertly performed by smokin hot guitar players. Don't mess around with cheesy software instrument guitars, use the real thing and get serious about your productions.
These samples were made to ignite your creativity and provide you with song writing inspiration. Add your own bass and vocal takes to quickly build a tasteful sounding acoustic track.
To download these apple loops click on the download links in the table below.
When six strings simply won't do, why not double up and go for a 12 string acoustic guitar for that massive 'folky' sound that is totally unique. The twelve string guitar can sometimes sound like a king sized mandolin with it's super melodic tone that's made many an acoustic hit famous.
That sound is now just a click away. Grab this free download and fire up Garageband to hear how good your tracks can be with these majestic loops.
To download these apple loops click on the download links in the table below.
Just as the name suggests, these samples offer a totally lush sound scape like nothing you'll ever find anywhere else. Not only do these beautiful samples feature a gorgeous 12 string acoustic guitar but they also feature exquisite female vocal samples that were recorded alongside the guitar parts for a perfect blend of harmony and melody.
The audio quality is sublime and will make your Garageband project sound like your working in a top flight recording studio with the best outboard gear money can buy.
To download these apple loops click on the download links in the table below.
Downloading Instructions
Click on the download buttons above to choose the style of Garageband acoustic guitar loops that you need. All of our Garageband acoustic guitar samples come with a commercial usage license for our paid members.
Each file that we offer is in Apple Loop format which has been specially formatted to work with Garageband and Logic.
Apple loops are specially formatted AIF files which contain meta data. This information ensures that your Apple Loops will contain transient points, key and tempo references and other useful data within the file itself.
Importing Instructions
You can load all of our free Garageband loops by dragging and dropping the unzipped .AIFF files from your local folder directly into the loop browser within Garageband. To import the files to the iPad version of Garageband you'll need to do that via iTunes.